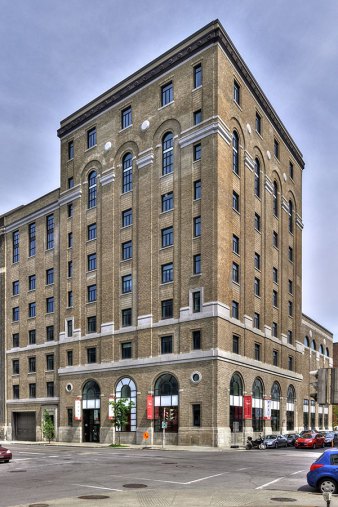 École de technologie supérieure's Pomerleau Industrial Chair, in collaboration with the Société québécoise d'infrastructures, the Ordre des architectes du Québec and Cegep Limoilou, held this strategic workshop on BIM research & teaching, as part of the Quebec BIM roundtable activities.
The event was held in the idéation room (room number 408, 4th floor) at ÉTS' "INGO" building, 355 Peel street, on October 20 and 21.
Attendance was free of charge but registration was required as space was limited. Take note that this was not a training workshop, it was meant as an intensive discussion & brainstorming workshop that spanned two whole days.
The program/agenda of the event can be downloaded here, and you can download the NSERC report we have written after the event.
Relevant documents
These materials were required reading prior to the event:
The presenters' slides as shown during the event are now all available here. Additionally, here is the video recording of the keynote by Dr. Arto Kiviniemi during the BIM Québec cocktail event:
Workshop goals
Many researchers consider that changes in the industry are accelerating: the structures for the establishment of professional programs in universities do not offer the agility to adapt to the emerging needs in training of highly qualified staff to support this transformation of practices. Some consider that BIM technologies are disruptive and their adoption require a paradigm shift in the way buildings are planned, designed, built and managed. However, unlike other countries such as France, Australia and Britain, in Canada there are no mechanisms that permit universities to rapidly adjust their undergraduate curricula in architecture and engineering. Moreover professional associations are fragmented and don't have the resources nor can count on research in the universities to update the bodies of knowledge in architecture or engineering.
The industry is nonetheless moving forward in BIM and academia is lagging behind. An opportunity arises in new research approach promoting cogeneration of knowledge, that is to say the industrial becomes a partner with the researcher to generate and formalize new practice knowledge. This approach is at the heart of the discipline of Construction Engineering. The purpose of this workshop is to bring together the key actors in BIM training, research and education to develop concrete partnership projects for answering these questions:
How can we make academia construction programs agile enough to train students to the reality of an industry in full transformation?
How to align and integrate training efforts in college, university and continuing education for the production and transfer of new knowledge on emerging practices and technologies?
How to encourage and support learning and transdisciplinary research?
How to recruit and train the next generation of researchers and teachers in these emerging areas?
How to make the most agile certification programs to meet current and future needs?
What can we learn and derive from programs supporting innovation and technology transfer as ones found in Scandinavia, Great Britain or Australia?